With a Step-by-Step Program
Based on the Latest Scientific Discoveries in the Fields of Tiredness, Chronic Fatigue and Sleep
by Tina Hagen & Peter Novak
...I thought something was wrong with me. My husband couldn't understand how I could sleep for 9 hours and still feel tired all the time. Now, I know what I've been doing wrong...
Anna Florey,
Bloomington, IL
There is a simple, quick and effective way to get rid of tiredness!
It doesn't involve coffee, energy drinks or pills. These things will only hide the symptoms of tiredness. They will do absolutely nothing about the condition itself!
If you want to stop feeling tired once and for all, you have to first understand what is making you feel tired.
Most people think that they feel tired because of their stressful job or lack of sleep. Of course, these things don't help. But, don't you know someone who works just as hard as you and is always full of energy? Don't you want to know their secret?
Your body is like a machine that no-one has ever taught you how to use. If you would really know how your body functions, you could use this knowledge to never feel tired again.
And that's not all. You could probably sleep a couple of hours less than now and still never get tired. Wouldn't you enjoy a couple of extra hours each day?
End Tiredness Program is based on the latest scientific research in the fields of tiredness and sleep.
It is a step-by-step program that anyone can use. Just follow the simple, effective techniques and you can eliminate tiredness from your life once and for all. Don't worry - in End Tiredness Program there are no gimmicks and no pills.
In End Tiredness Program
You Will Learn…

The most common mistake that people do when they feel tired (you are probably doing it yourself).

How you can make your sleep more effective. Learn the secrets behind the 5 different stages of sleep and you will be able to sleep less and feel more rested.

Your body has an in-build mechanism that produces energy. You will learn how you can get control over it and increase the amount of energy that you have.

How one hormone determines whether you feel alert or sleepy. You will learn 5 ways to control the level of this hormone in your body.

Proven methods that will help you wake up easily each morning. You will never have to feel drowsy again. You can even throw away your alarm clock.



3 simple ways to get your brain in the 'sleep mode'. You will learn how to easily fall asleep every day – no matter how hectic your day was.

How napping can actually make you feel more tired. If you nap, do it correctly by using the true power of the 'Power Nap'.

The truth about your biological clock (also called 'the circadian rhythm') that every person needs to know.

There are 4 basic substances that your body needs - if you don't get them, you will feel tired. Just by learning this valuable information, you can ensure that you get all the things that you need – without any diet or pills.

8 simple things everybody can do to increase their energy level.

How you can optimize your sleep by applying the secrets of your inner sleep system.

How your brain gets the energy. Discover 11 steps for ensuring that your brain will always function at its optimal.

Which 3 common habits literally suck the energy from your system.

And much more…
The only thing that is required from you is that you put the information into practice. End Tiredness is a step-by-step, easy to follow program. That is why every day, more and more people are choosing End Tiredness Program to get the energy back into their lives.
Hi! I'm writing to tell you how excited I am about your program. I have 3 small children and I know firsthand what being constantly tired feels like. Since I've started doing the program, I have noticed a huge increase in my energy level. I don't feel exhausted anymore and I no longer 'drop dead' at 10 p.m. I've shared my book with my friend Sara and she too is quite enthusiastic about it.


Ashley Peters, 35
Now, before we go on, let me introduce myself.
Who Am I And Why
You Should Listen To Me

My name is Peter Novak and I used to be just like you. I have been tired for a very long time. I drank several cups of coffee per day just to keep me going.
I used up all of my energy at work. As a result, I didn't have much of a social life. I was feeling so tired I even stopped going to a weekly poker game, which was my favorite pastime since college.
I Knew I Had to Do Something...

I tried some energy pills that I found on the internet. They worked to some extent, but I started having headaches. I continued taking them, until they gave me indigestion as well.
I switched to vitamin supplements, but those didn't have any effect whatsoever.
Only after that I've finally seen that I had to take the responsibility for my life in my own hands.
I looked for information everywhere.
The First Thing I Started
Researching Was Sleep

I could never get enough sleep, but I knew a couple of people that could sleep far less than I and still have all the energy that they needed. My friend Ernest, for example, only sleeps for 5 hours per night, but is the most energetic and cheerful person I know.
I did a quick search and discovered an amazing fact.

Many Successful People Sleep
Only a Couple of Hours Per Night

For example:
• Jay Leno: 4 – 5 hours per night
• Martha Stewart: 4 hours
• Nikola Tesla: 2-3 hours
• Margaret Thatcher: 4 hours
• And many, many more…
Not only do they need far less sleep than I, but they are also very successful at what they do. I decided that if they can do it, so can I (they are only human, after all).
I was determined to find a way. I searched the internet, bought a pile of books on the subject, read through a stack of articles and scientific studies.
I found out that an amazing amount of research has been done on the subject of sleep. Based on the scientific knowledge I have discovered a way in which you can make your sleep more efficient.
You Can Sleep Less
And
Be Full of Energy Throughout the Day

The techniques behind this are amazingly simple. And yet an average person knows nothing about it.
As I mentioned in my previous mail, I was very skeptical about your program. Sleep less – have more energy; it just doesn't seem realistic. But, I was also curious, so I decided to give it a try. Why not - I could always use your money-back guarantee. 
But surprise, surprise – it works! I never really had any problems with tiredness and got the program just so I could try and sleep less. As a software developer, free time is a luxury I usually cannot afford.
Anyway, the program works. It works even better than promised. I now sleep for only 4½ hours per night. It really is quite amazing. I never thought anything like that was possible…


Takeru Saito, 35, Saitama, Japan
I began using these new techniques and I was really surprised by the results. In just a couple of weeks I started getting up easily. I had so much more energy than before that I didn't know what to do with it (usually, when I got home from work, I just collapsed in front of the TV). And at the same time I was sleeping two hours less than before!
I was so thrilled with the results that I continued with my research. I have started looking into non-sleep-related causes of tiredness.
I Have Learned That There Are Many Other Things, Which Can Help You Beat Tiredness Completely.

While reading on the subject, I came upon a great article written by Tina Hagen. It had a number of fresh ideas. I've tried some of her suggestions, and they have really worked. Her ideas were so simple I couldn't believe how effective they were.
So, I have decided to contact her.
Let Me Introduce Tina -
- The Tiredness Expert

Hi, my name is Tina Hagen. I am a working mom with two children. I am a counselor and I mostly work with police officers and fire fighters.
In my line of work, I have seen many people that suffer from chronic tiredness. With my clients, this condition is mostly caused by shift-work and stress.
I have, therefore, become quite an expert in fighting tiredness. When a friend of mine asked me if I could write an article on the subject, I was happy to oblige her. But, the response I got was overwhelming.
I have received over 200 e-mails. Some people were asking me additional questions, others reported that my techniques helped them to feel better. One of the people that contacted me was Peter.
After we exchanged a couple of e-mails, we decided to meet in person. We knew that we have the knowledge to help people overcome tiredness.
It Took Us 5 Months to Finish
The 'End Tiredness Program'

With our program there are no pills or gimmicks. End Tiredness Program is based upon simple techniques that will help you to eliminate tiredness and fully enjoy your life. You will learn the information, follow a few simple guidelines and you won't feel tired ever again.
Great program! I've bought it 8 months ago and I have so much more energy then before that I can hardly stay still. I am always active and around. As a result of this, I've lost an incredible 17 pounds WITHOUT any diet whatsoever. Once again – thank you for your amazing program. I promise that I will keep you updated on my progress.


Jennifer Wilkes,
Georgetown, DE
…there is one more thing I think I should mention. I used to wake up with a terrible back ache. Now, since I've started using your program, the back ache has disappeared. I think that's because I sleep less…


Phil Rosebrugh, 43,
USA



I am a student with a part time job and I do most of my studying at night. Obviously, I didn't get enough sleep, so I was tired, more or less, all the time. The program really has helped me 'end tiredness' :-). Also, I have noticed that I am able to stay concentrated on a problem for much longer, even if it's really late (like 3 am). All in all, thank you for a great course.

Keith Fayolle, 22


I could never get my husband to take me dancing. He would always complain how tired he is. Now, I've bought him your book and he doesn't have any more excuses. I actually think that he is starting to enjoy our weekly outings. Thank you from the both of us.
Dorothy Bernthal-Robl,
Toronto


So, What Can The
End Tiredness Program
Do For YOU?

It will help you regain your natural energy. You will be able to finish all your daily tasks more easily and after that you will still have the energy for the things you want to do.

Your ability to concentrate and your mental capacity will increase. You will be surprised to discover how much you are actually able to achieve when tiredness is no longer holding you back.

It will improve your health and boost your immune system. Long-term tiredness can cause heart disease, incontinence, constipation, diarrhea or abdominal pain, complicated pregnancy… Eventually, it tears down your immune system and damages your general health.

You will start getting up easily in the morning. When you open your eyes, you will feel completely refreshed and ready to start a new day.

It will improve your relationships. You will finally have the time and the energy for your family and friends. The time that you spend together will also be of a higher quality, as you will be able to do all the things you currently can't find the energy for.

You will have a couple of hours of extra time each day. You will need less sleep than before and that will give you more time to do the things you really love.

Just Imagine What Your Day
Will Look Like…

In the morning you wake up without the alarm clock. You open your eyes, you feel completely rested and can't wait to start the day.
When you arrive to work, you see your co-workers red-eyed and yawning. You smile and think to yourself, 'I can't believe I used to be just like that.'
At work, you finish your tasks easily. You have no troubles concentrating for longer periods of time. Tiredness is no longer a problem.
When you come home, you don't head directly for the couch. You still have enough energy for whatever you want to do – go to the movies, play with your kids, or have a walk.
In the evening, you go out with your friends. They notice how full of life and energy you are. They, too, want to know your secret.
You stay out late as you don't need as much sleep as you used to. At home, when you are getting ready for bed, you think to yourself, 'It's been a great day.'

Many Have Already Experienced The
Effects of The End Tiredness Program.

It has a phenomenal success rate! Every day we receive e-mails from people thanking us for creating this program. They are thrilled to discover how simple it is to eliminate tiredness from their lives. And now, this amazing program is available to you.
…as I finally have some time for myself. I've actually picked up my guitar again (it has been gathering dust for a decade) … I'd rather not think how much time I've wasted by oversleeping all my life…
Kent Palmer, Port
Douglas, Australia

Three years ago I was diagnosed with chronic fatigue symptom. I've tried almost everything, but nothing seemed to work. While browsing the internet, I stumbled upon your program. Even though you don't deal specifically with CFS, I've decided to give it a try. I was excited when I started seeing results. Since then I've experienced a huge improvement in my condition. Thank you and keep up the good work!
Karin Hofmann,
Frankfurt, Germany


You Want to Get
End Tiredness Program Today…
If you're ready to take full advantage of our program and get rid of tiredness forever, you can have all these valuable information just minutes from now.
End Tiredness Program

comes in an easily downloadable e-book .pdf format (no shipping or handling fees).



If you have never downloaded an e-book before, don't worry; we will take you through it step-by-step.
We understand that buying things on the internet can be intimidating. You don't see the product until you have already paid. Sometimes, you may not get what you have expected, but there is nothing you can do about it. That is not the case with our program.

It Works - We Guarantee It!
| | |
| --- | --- |
| Because End Tiredness Program worked for so many people, we firmly believe that it will work for you. We completely stand behind our product and that is why we are prepared to give you a full 100 % money back guarantee. | |


If you are not completely satisfied with our program, OR you think it doesn't deliver ALL that we have promised, we will give you a 100% of your money back – no questions asked.
That is right. There is absolutely no risk on your side. We will take all your risk for a full 8 weeks. If this program doesn't deliver, it will be our loss, not yours.
I would like to thank you for answering very quickly to my question. I now really understand why it is so important to always

. This is the first book I've bought through the internet. I am feeling much less tired now even though I still didn't use all of the advices in the book.
Alicja Skowronska,
Gdansk, Poland


Do you want to eliminate tiredness from your life? Get your own copy of End Tiredness Program today. Order now and you will also receive the following 3 bonuses absolutely free.
Free Bonus #1
Unlimited Expert Support
Do you have any questions, concerns, suggestions, or you just want to share your story with somebody else? You won't have to go through the program alone. We will try to help you every step of the way. We will personally respond to all your questions and ideas through a special, customers only, email address. You will benefit from the experiences of many others who have gone through the same problems before you. Just one session of individual counseling would cost you over $100. When you get our program, you will receive all the benefits of many hours of personal counseling free of charge. This could easily be worth hundreds of dollars. And is yours free when you order End Tiredness Program today.
Free Bonus #2
The Jet Lag e-book
Even if you don't travel often, jet lag can become a problem for you. Imagine going on a long awaited holiday, just to have it ruined by a jet lag. Isn't it better to be prepared? On the other hand, if you travel frequently, you already know what jet lag will do to your body. The symptoms of jet lag are numerous. They include sleepiness, headaches, gastrointestinal problems, and many more. Jet lag also affects your communication skills and mental readiness. This can be especially problematic when you're traveling on business as it may influence the outcome of your meetings. The Jet Lag e-book will tell you all you need to know about jet lag. There are actions that you can take before, during and after the flight that will help you minimize the effects of jet lag. By doing so, you will be able to fully enjoy your travels. This e-book is valued at $39.95, but you will get it for free when you order End Tiredness Program today.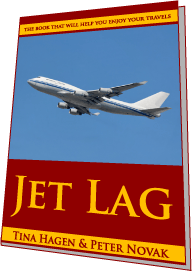 Free Bonus #3
Shift-Work Report
Shift workers often suffer from tiredness. If you are among them, there is probably very little you can do about your working hours. There are, however, ways to help you adjust yourself to your schedule.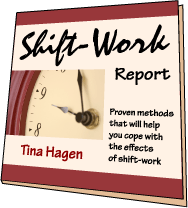 In the Shift-Work Report you will find:
• 11 simple things you can do to increase your alertness at work
• Secrets of managing your inner biological clock
• All the symptoms of shift-work related tiredness and how you can avoid them
• How to prepare your body for irregular sleeping hours
• And more…
If you are a shift worker, this report can literally change your life. The Shift-Work Report is valued at $19.95. When you get your End Tiredness Program today, you can get all these valuable information for free.

That's over $150 in free bonuses when you order today!
End Tiredness Program is yours for a small one-time investment of only $97.
Together with all of the bonuses you will be getting a total of over $250 in value.
Special Offer!
Because the response to our special offer has been overwhelming, we are extending it to
Friday, October 20th, 2006
. That means that you can get the
End Tiredness Program
with all the bonuses included for a special low price of $47. That's less than half the normal price!
That's right. A combined $250+ value for only $47!

That's less than a cup of coffee a day for a month. You will probably be able to save more than that in just 30 days! When you put the information from End Tiredness Program into practice, you will need less coffee as your tiredness will start to disappear.
Start making the change in your life. Get rid of tiredness now.
Imagine all that you could achieve if only you would have the energy. What are all the things you could do in extra hours you will get? How will your life change when you finally get rid of tiredness?
Remember: If you are not completely satisfied with our program, you will get all your money back. That means that you can test-drive End Tiredness Program for a full 8 weeks. If, at any time during that period, you are not 100% satisfied, we will return your money! NO QUESTIONS ASKED.
We are sure that our program will help you. We just want you to try the program, but you are under no obligation to keep it. If you feel that it doesn't meet your expectations, you will get every penny back.
Just give it a try. Order End Tiredness Program now.

Yours truly,
Tina Hagen & Peter Novak
P.S.
You may want to know why more and more people are choosing End Tiredness Program.
- First, it really works! It treats the tiredness itself. Other products (coffee, pills, energy drinks, etc.) just cover up the effects of tiredness.
- End Tiredness Program is the only natural – no pills or gimmicks - way to fight tiredness.
- There are no ongoing costs, just valuable information that will change your life.
P.P.S.
This offer is COMPLETELY risk-free. If you don't experience a significant increase in your energy level, or you're simply not 100% satisfied, you get ALL your money back! No hassle, no explanation necessary! Click HERE to get your copy of End Tiredness Program now.