Stress And Tiredness
If you are under stress for a long while, your adrenals may eventually become exhausted and you'll likely suffer from fatigue. By learning how to deal with stressful events and manage stress, you will start your way towards regaining your health and energy.
---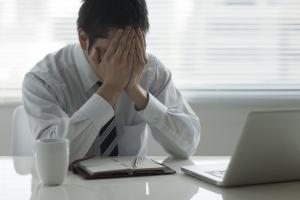 What triggers stress and adrenal exhaustion?
The experiences of our early life, our nutrition in childhood, and to some degree, our genetic inheritance, all shape our resistance to stress. Whether that resistance is small or great, much can be done by learning how to manage or avoid stress.
Long term stress puts pressure on the adrenal glands. These glands were originally designed to pump out adrenaline to enable human beings to either run away from, or else fight, a predator. The stresses of pre-modern human beings were short term, and once resolved, the body could easily return to a state of normality. The pace of change, the demands, uncertainties and complexities of present-day life, create for many a continuous state of stress. The adrenal glands, primed to react to stress, become overtaxed and increasingly unable to function properly. [Please seeAdrenal fatiguefor more detail].
Stress is triggered by a combination of factors including
Life events – certain events create more stress than others. Find out whether you are at risk with the quiz below.
Behavior - lifestyle choices make a huge difference in our ability to withstand stressful events.
Attitudes – such as perfectionism, hostility and negativity all undermine our ability to deal with stressful events successfully.
Life events that contribute to stress
Mark each life event that's happened to you in the last year and then add up the points from each one.

Life Event

Points

1

Death of spouse

100

2

Divorce

73

3

Marital separation

65

4

Jail term

63

5

Death of close family member

63

6

Personal injury or illness

53

7

Marriage

50

8

Fired at work

47

9

Marital reconciliation

45

10

Retirement

45

11

Change in health of family member

44

12

Pregnancy

40

13

Sex difficulties

39

14

Gain of new family member

39

15

Business readjustment

39

16

Change in financial state

38

17

Death of close friend

37

18

Change to a different line of work

36

19

Change in number of arguments with spouse

35

20

A large mortgage or loan

31

21

Foreclosure of mortgage or loan

30

22

Change in responsibilities at work

29

23

Son or daughter leaving home

29

24

Trouble with in-laws

29

25

Outstanding personal achievement

28

26

Spouse begins or stops work

26

27

Begin or end school/college

26

28

Change in living conditions

25

29

Revision of personal habits

24

30

Trouble with boss

23

31

Change in work hours or conditions

20

32

Change in residence

20

33

Change in school/college

20

34

Change in recreation

19

35

Change in church activities

19

36

Change in social activities

18

37

A moderate loan or mortgage

17

38

Change in sleeping habits

16

39

Change in number of family get-togethers

15

40

Change in eating habits

15

41

Vacation

13

42

Christmas

12

43

Minor violations of the law

11

Now add up your Total_______
Here's how you determine your score for the stressful life events list:
You have some stressors in your life, but you are probably able to deal with them.
Medium (above 50, but below 125)
You are at risk of adrenal exhaustion, so make sure you practice relaxation and eat well.
You are at serious risk of adrenal burnout and you should take action to reduce your stress now.
Behaviors that contribute to stress
Although you cannot control the events of life that may cause stress, you have a lot of choice over the lifestyle choices that you make. Try to avoid:
Skipping meals and dieting – as you risk depriving your body of vital nutrition. Aim for small, frequent, and nutritious meals.
Eating junk food, fast food or processed food – as you give your body too much to process and stress your liver.
Pushing past tiredness and using stimulants, such as caffeine and sugar to keep going.
Exercising too little, too vigorously or too much – mild regular exercise such as walking every day is the best.
Poor quality or too little sleep – you need to rest and you need to make getting high quality sleep a priority.
Shallow breathing – try to practice breathing deeply for at least ten minutes a day to get vital oxygen into your system.
[Please seeDealing with stress effectivelyfor more details about stress reduction techniques]
Attitudes that contribute to stress
Attitudes to life become habitual. Still, they can be changed, although this can take time and will require discipline and practice. Below are some attitudes, which can put you under unnecessary stress:
I must be perfect
No one is perfect and so holding an attitude of perfectionism is exhausting and self-defeating. Remind yourself that life is short, and that every event offers the opportunity to learn. Forgive yourself your past mistakes.
I am a victim of my circumstances
Although some circumstances can be hard, most pass and new life events occur. If you hold an attitude of victimhood, you will always be looking for the next negative thing in your life. Cultivate a positive feeling about life instead and see yourself as powerful and able to help yourself.
I haven't time for fun
Fun is essential to all human beings (and indeed many animals). Spend time every day in play, with children, with friends, or with pets. If possible, spend time in nature.
I don't come first in my life
If you don't come first in your own life, then you won't come first anywhere else. In order to be of service to anyone or anything else, you have to know your own strengths and limitations. The stronger and less stressed you are, the more you can be useful to others.
I can't say 'no'
You don't have to please people to win their respect and their love. In general, it is better if you show you have values that cannot be compromised. This isn't to say that you shouldn't be flexible, but always keep the option of saying 'no' to anything you don't want to do.
In conclusion
Recovering from stress and fatigue takes a while, so the best time to start is now. Respect your life and your health and create positive choices and attitudes. Bear in mind that some life events may have caused/be causing you stress and so take extra care of yourself during difficult times.
---
---
---
You might also be interested in: